The skeleton found at Waterloo in 2013 and put on display in the Underground Museum at Waterloo, has been named as Private Friedrich Brandt of the King's German Legion by Military Historian Gareth Glover. How did he deduce his name?
Luckily the skeleton was found with a number of artefacts with the body, although his uniform jacket, weapon and shako had been taken away, so no badges or buttons to identify his regiment. However it is clear that he was hastily buried (almost certainly during the fighting) alone by his mates and that is how his skeleton survived the removal of the bone in the mass graves for fertiliser and bone ash for sugar refining. 
Cause of death was obvious with a French musket ball lying in the right side of the best cavity, it is possible that it clipped the heart or a major artery and he died quite quickly, too quickly to be evacuated to Mont St Jean field hospital. The lack of a head was the fault of the digger that found him!
Another piece of evidence pointed to someone in the British army. Although his military jacket had been removed, it had clearly been roughly removed from a corpse, as the tail of the jacket became caught under him and was ripped off. The remaining piece of fabric containing copper coils manufactured in England, used in forming jacket tails.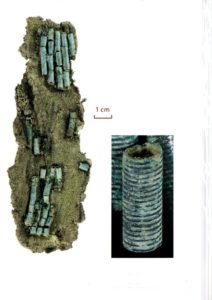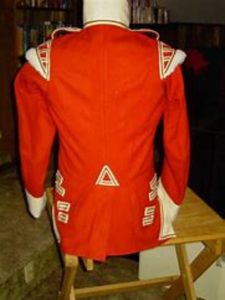 ---
He still had in his trouser pockets his spoon, penknife and the belt buckle remained, but none were named.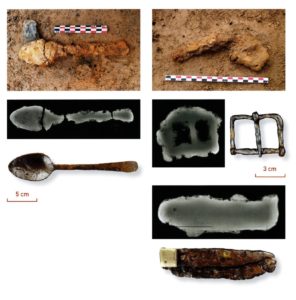 There was also coinage still in his pocket, a bar of cinnabar for dyeing thing things or as medicine – and a grey flint (the French were yellow/brown and British grey) this again pointed towards a British or German in British pay.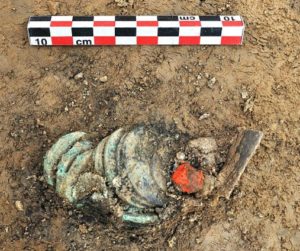 The coins were a mixture of Hanoverian, Austrian and French coins, making it very likely he was German, so it was most likely he was King's German Legion.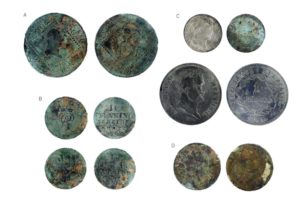 The vital piece of evidence was however a wooden tobacco box with the initials FCB and on the other side the date 1792. 

So suspecting he was KGL, Gareth looked at the records of the various battalions at Waterloo for killed with the initials FB (no middle name is given in the records) – probably from the 1st Brigade KGL as he was buried on the line  between their position on the battlefield and Mont St Jean farm.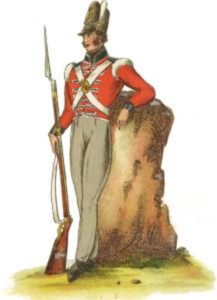 Only two men killed in this brigade had the initials FB – Corporal Francis Berkenfiel and Private Friedrich Brandt, both of the 2nd Line Battalion KGL – But which was it?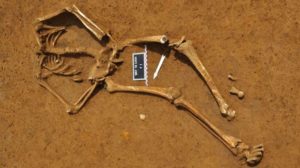 Luckily a note in the Waterloo Medal Roll recorded that Corporal Berkenfiel died at Brussels on 3 August so he would not have been buried on the battlefield.
This left only Private Friedrich Brandt which records show was 23 when he died at Waterloo therefore he was born in 1792!! Same date as on the tobacco box.
Unfortunately DNA is not easily possible as he was an only child and no living relatives are known of the family.
Gareth Glover admits that we will never be certain but says 'It is 95% certain that this is Friedrich Brandt'.