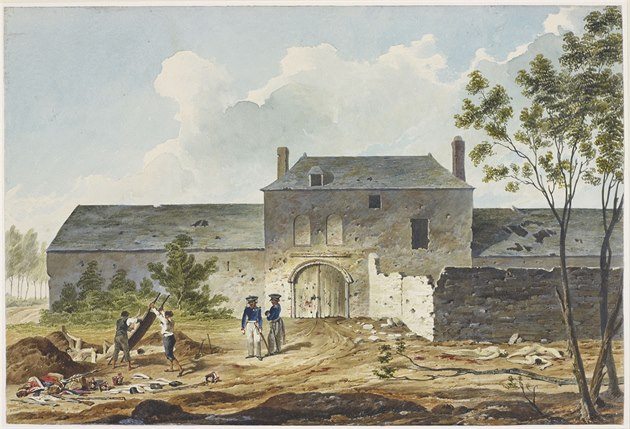 EXTRACT FROM THE 2019 ANNUAL REPORT
The Restoration of Hougoumont – Phase II
In pursuit of the company's charitable objective of furthering the education of the public about the battle of Waterloo, our efforts during the past year have been mainly directed at getting ready to implement the second phase of the Hougoumont restoration project as soon as planning consent is received.
The first priority of phase 2 is to make it easier for visitors to understand the events that occurred at Hougoumont on 18 June 1815 by replanting the significant trees and hedges that existed at the time of the battle. We have raised the funds for this purpose from a generous benefactor in England and our carefully researched planting proposals have been approved by the Intercommunale Bataille de Waterloo 1815, which owns Hougoumont, and by Kléber Rossillon, the French company which has been appointed to operate the site.
So, it is disappointing to have to record that planning consent has still not been received from the Walloon Region. Our planting plan is uncontroversial and highly desirable, but at the time of writing it seems likely that a third successive planting season will be missed.
Frustrating as this is, we have not been idle during 2019. With the help of garden writer, Robin Lane Fox, and Professor Barrie Juniper of Oxford University, we have identified and sourced several old types of apple tree for planting in the small orchard (or killing ground). They are types that were familiar in Brabant and Northern France in the 18th century, but are now rare. They will be grafted by a specialist nursery in Kent this winter and should be ready for transplanting in 2023. We have also found an English firm of nurserymen, Majestic Trees of Harpenden, to supply and plant the forest trees and hedgerow plants, including planting the sweet chestnuts grown from seed from one of the venerable specimens near the south gate by Penelope Milburn, a former director of Project Hougoumont.
Once we have carried out our planting plan, we will turn, funds permitting, to making improvements to the museum and erecting 14 much-needed story- boards at significant points around the site.
During the year we continued to retain Gareth Glover, military historian and authority on the battle of Waterloo, to maintain the Project Hougoumont website and to keep it refreshed and up to date.
Martin Drury
Director and Trustee, Project Hougoumont
12 December 2019