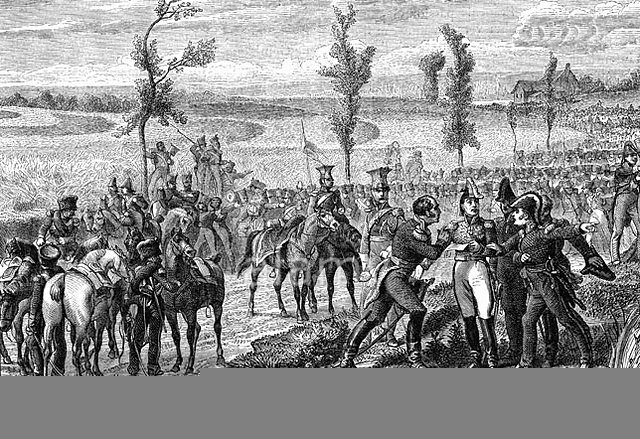 Marshal Grouchy had moved slowly north east from Ligny during the afternoon and evening of 17 June, unsure in which direction the Prussians had retreated. Napoleon had assumed that the Prussians had been so heavily defeated, that they were retreating rapidly along their lines of communication into Germany via Namur. This error was largely due to early French cavalry reports of a sizeable mass of routed troops discovered on the Namur road and the capture of an artillery battery, which were assumed to be part of the rearguard. It did occur to Napoleon that this could simply be a party of Prussian troops who had become detached from the main army in the confusion. But it did serve to further confirm his assumption that Blucher would be unable to reform his army for days and would not be able to support Wellington; a strange presumption, given Napoleon's experience during the final campaigns of 1814, where Blucher often showed his ability to take a beating and to return to the attack within days, sometimes the very next day. As a precaution however, he had sent a large force of thirty three thousand men and ninety-six guns in pursuit of the Prussians, which further reports indicated were massed around Gembloux, this, Napoleon realised allowed Blucher not only the option of retiring on Namur but also on Wavre which would draw him nearer to Wellington.
Napoleon had sent Grouchy with verbal orders to maintain his sword in the backs of the Prussians and to prevent them reforming; to chase them away. However, Napoleon soon reconsidered these orders to Grouchy and decided to provide further written instructions to clarify his role. These confirmed that his force would consist of General Vandamme's III Corps; General Gerard's IV Corps; General Teste's Division which was seconded from VI Corps; with General Pajol's Cavalry Division and General Exelman's II Cavalry Corps and associated artillery. The orders were for Grouchy to proceed to Gembloux, then to reconnoitre towards Namur and Maastricht, pursuing the enemy. However, Napoleon clearly realised the possibility that at least part of Blucher's force might proceed towards Brussels to link up with Wellington, as he particularly ordered Grouchy to:
'discover the intentions of Blucher and Wellington, if they intend to unite their armies to cover Brussels and Liege and if they intend to give battle.'
However, it was very late before Napoleon ordered any cavalry patrols in the direction of Wavre. Grouchy's troops had arrived at Gembloux late in the day, where information from locals indicated that a significant portion of the Prussian army had been moving on Wavre. Grouchy bivouacked in the frightful weather of 17-18 June at Gembloux, only sending out cavalry patrols to establish their line of retreat. However he was convinced enough by 10 p.m. to write to Napoleon that the Prussians had passed Sauveniere where they had split into two columns, one heading towards Wavre and the main part had marched on Liege, with some others marching to Namur. However, he did state that:
'If after their reports [his cavalry patrols] it appears that the mass of the Prussians is retiring on Wavre, I will follow them in that direction so that they cannot reach Brussels, and to separate them from Wellington.'
 At dawn on the 18 June, Bulow's troops began the march to join Wellington's army at Mont St. Jean and it was only as his rearguard moved off some hours later, that Exelman's French cavalry began to approach, causing the rearguard to turn back to hold them off. At 6 a.m. that fateful day, Grouchy again wrote to Napoleon confirming that all reports now indicated that Blucher was marching to Brussels, where he would join Wellington and offer battle.
At 10 a.m. Grouchy updated his report by indicating that he was following the Prussians and that he would only reach Wavre that day; stating that:
'Blucher's I, II and III Corps are marching in the direction of Brussels…This evening, I will be standing before Wavre en masse, and in this way, be situated between Wellington, who I assume is falling back before Your Majesty and the Prussian army. I require further instructions…'
It is clear that Grouchy had no idea of Napoleon's present position nor his movements or intentions; for within ninety minutes of his letter, one of the greatest battles in world history was to commence no more than twenty miles from him and he had no idea, nor had any expectation that a battle would be fought that day.
At 11.30 a.m. Grouchy, apparently whilst enjoying a breakfast of strawberries at Sart-a-Walhain some six miles south of Wavre, was violently awoken from his torpor by the unmistakable distant rumble of a great artillery barrage, the fanfare for Waterloo. A council of war was soon held where Gerard demanded that the army immediately marched towards the sound of the guns, which to experienced ears came from the area of the Bois de Soignes. Grouchy however decided against such a move; Napoleon had not sent any orders for him to join him, he was to continue pushing the Prussians back to the north and east.
The troops were ordered to march towards Wavre which General Thielmann with his fifteen thousand men had been ordered to hold at all costs by Blucher.
It is unclear at what time Grouchy's 6 a.m. report arrived, but Napoleon did not send a reply until 1 p.m. when it is claimed that Grouchy was informed that his planned movement on Wavre was conformable to his orders but that due to the now obvious risk of Blucher joining Wellington:
'…You must always be in a position to attack any enemy troops that might seek to disquiet our right and to eradicate them. At this moment, battle has been joined in the direction of Waterloo before the forest of Soignes. The enemy's centre is at Mont St Jean. Manoeuvre in such a way that you join our right.'
But a postscript was apparently hurriedly added before it left:
'A letter has just been intercepted saying that General Bulow is to attack our right flank. We believe we have already sighted this corps on the heights of St Lambert. Thus, do not lose an instant in moving towards us to join with us to wipe out Blucher whom you will catch in flagrante delicto.'
Unfortunately for both Napoleon and Grouchy, this note, even if genuine, had little hope of arriving before it was way too late for Grouchy to act upon it.
General Thielmann made the logical decision of abandoning the southern portion of Wavre and retreating over the River Dyle. He ordered the barricading of the two bridges and the defence of others at Basse Wavre and made preparations for defence in all of the riverside properties to the north of the river.
The French cavalry had been patrolling up to the Dyle for some hours, which was in flood due to the heavy rains preventing any possibility of fording it, and it was fully 4 p.m. before Vandamme's infantry finally approached the town, when they immediately charged the bridges in an attempt to capture them by a coup de main. Thielmann had just completed his preparations for the defence of Wavre, when two French artillery batteries announced Vandamme's troops, who immediately attacked the bridges in solid columns but were repulsed.
Grouchy reacted by launching simultaneous attacks on the bridges above and below the town at Bierges and Basse Wavre and further ordered Pajol's cavalry and Teste's infantry further west towards Limal and from there to advance on St Lambert. Basse Wavre held, but the bridges at Wavre changed hands on a number of occasions as each side launched fierce bayonet charges with quarter rarely sought or given.
However, on riding towards Limal, Grouchy failed to find the infantry he expected to meet on route, only to find them soon after at Wavre, having taken the wrong road and lost their way. Grouchy force-marched the troops to Limal where they arrived at 11 p.m.; finding the bridge held by Pajol. He immediately launched his troops over the Dyle, beating off a Prussian force which was clearly intent on re-taking Limal and Grouchy ordered all available troops to join him so that he could expand his bridgehead in the morning and join forces with Napoleon.
The fighting eventually dwindled with the darkness and both armies settled down to an uneasy night, their commanders painfully aware that the heavy cannonade at Mont St Jean had ended and that they were completely unaware of the outcome. Grouchy had heard rumours of a French victory, Thielmann had heard similar unconfirmed reports of an allied victory. Who was right?
Neither would sleep soundly.
The following day arrived with neither of the contending armies facing each other at Wavre still any clearer of events at Waterloo. Thielmann was still faced by strong French forces opposite Wavre, whilst Grouchy's main force had crossed the Dyle at Limal. Thielmann placed his 10th and 12th Divisions in front of Point du Jour but they were clearly facing twice as many French infantry, cavalry and cannon, and soon after daylight Grouchy launched a concerted attack on the villages of Point du Jour and Bierges.
Thielmann claims that he did not hear definitive news of the victory at Waterloo until 9 a.m., but it may have been a couple of hours earlier that the wonderful news actually arrived and was quickly spread amongst the troops. Despite overwhelming French numbers, the news spurred the Prussians into counterattacking. Rather than retiring as Thielmann had expected, the French, still ignorant of events, launched an even stronger response. By 10 a.m. French numbers were telling and Thielmann decided to withdraw from Wavre and to retire just beyond Ottenburg, six miles along the Louvain road.
Grouchy now commanded the field, but within half an hour news of Napoleon's defeat finally reached him and it became immediately apparent that he must retreat. The infantry re-crossed the Dyle at Limal whilst the cavalry was sent on to hold the bridges over the River Sambre, thus securing the route into France. A strong cavalry screen prevented Thielmann learning that Grouchy had retreated until late that night.
Grouchy had handled the withdrawal with skill, but he was far from safe yet, as Pirch's Corps had also been sent by Blucher to manoeuvre to cut off his line of retreat.