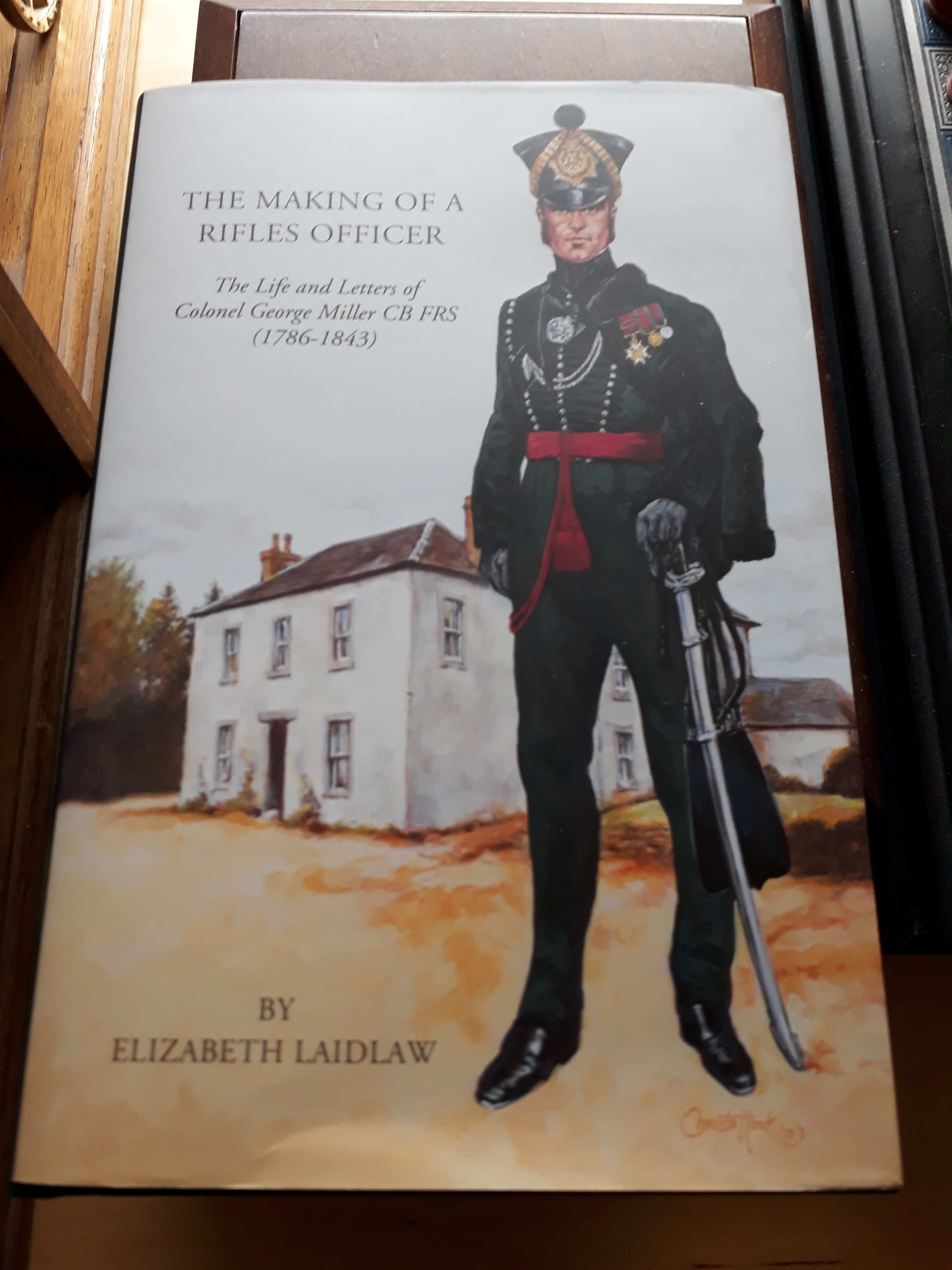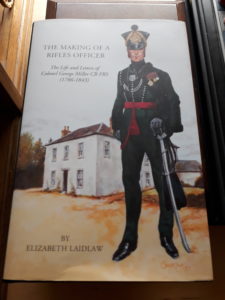 The Making of A Rifles Officer
The Life and Letters of Colonel George Miller CD FRS (1786-1843)
By Elizabeth Laidlaw
Burngrange Press March 2019 
ISBN 9781916477100
471 printed pages
This book is very much a labour of love, much of the meticulous research having been untaken by Elizabeth Laidlaw (who inherited the book) and sadly completed posthumously by her loving husband James Laidlaw. That love permeates this book in every way, from the care taken in the quality of the production of this beautiful volume of 162 letters written by George Miller, to the over 650 well researched footnotes that accompany it, the eight appendices of other correspondence and letter 163, which is actually a series of articles published in the United Services Journal on the rifleman Tom Plunket, which research has shown was written by Miller.
Many of the letters deal with the family estates in Scotland and the trials and tribulations of a young officer struggling to maintain himself without a sizeable private income. The letters reveal a great deal of information on the training regime, a subject that few record in great detail and abound with George's own professional opinions on the campaigns he and his regiment fought in and he is not afraid to criticise even Sir John Moore or the Duke of Wellington on aspects of their operations, clearly this was intended for his brother's eyes only!
George joined the 95th as a 2nd Lieutenant on 20 July 1804 and spent time at the Royal Military College and recruiting in Norfolk before finally serving abroad in the disastrous expedition to Buenos Aries and then went to Spain for the Corunna campaign and then to Walcheren.  In 1810 he seved with Spanish forces around Gibraltar and was present at the Battle of Barossa before returning to Britain again in 1811. He was then sent out to Spain again in late 1813, observing the final assault on San Sebastian and the Actions at Vera, the Nive and Nivelle before being wounded at Tarbes, which effectively ended his involvement in the war.
Having recovered from his wound, George served in the Waterloo campaign, commanding the 2nd Battalion 95th at one time, until again wounded himself and removed from the field. George then participated in the Army of Occupation of France, but in 1817 he was granted a long leave to undertake the European Grand Tour he had always hoped to do. He then spent a number of years in garrison in Ireland and was quite despondent on the future of that island under British rule.  In 1826 he was happy to go on half pay as a lieutenant colonel.
His letters are full of insight and often contain detail overlooked by many and which are pure gold to historians. If there is one dissapointment, it is his sparse correspondence when on service abroad and it is unclear whether a number of letters were mislaid or that he simply wrote infrequently. The few that we do have show us aspects that are sometimes less well known and his analysis of the tactical situation is often insightful which only makes us  yearn for more.
James is to be congratulated on bringing these letters into the public domain and giving us a fine first-hand account from the lesser known 2nd Battalion 95th Foot. The entire production is a fine monument to George Miller and of course Elizabeth Laidlaw and is thoroughly recommended for anyone who really wants to get under the skin of a 95th officer during The Napoleonic Wars.
Gareth Glover